If you are fortunate enough to live in the lovely market town of Epsom, in Surrey, famous for one of the most import horse races of the year, the Epsom Derby and for Epsom salts that derives from there, you may also be fortunate enough to have a wasted basement or cellar, which is unusable because it is damp. Well, your local Basement Damp Proofing company, Tapco HomeDry are here to help.
Basement and cellar conversions are a by far the easiest way of creating more space, whilst at the same time increasing the value of your property. If you are considering a basement conversion in Epsom, Tapco HomeDry can undertake the entire project or, if you prefer, just the specialist damp proofing, leaving it ready for your own contractor to dry-line or plaster.
Basements or cellars very often suffer from damp simply because they are build below the ground and have no means of preventing lateral damp penetration. Our high skilled and trained operatives will carry out a complete damp proof installation, either using a Cavity Drain Membrane system (CDM) or a Structural Waterproofing System (Tanking) to ensure your new rooms are sound and damp free for many years to come. You may want to create an office, a new bedroom, gym or cinema room, whatever the choice, converting an existing space eliminates the cost and time involved building a new extension or doing a loft conversion. Below is an image of what was a damp dark vault under a pavement that we have converted into a lovely additional bedroom.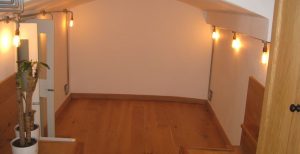 WHY CHOOSE TAPCO
Tapco Homedry has been established for over 45 years and are generally recognised as one of Surrey, London and surrounding Counties most established and reputable Basement Damp Proofing company. Both systems are covered by our long term guarantee which, for your peace of mind, can be protected by the Guarantee Protection Insurance. (GPI). We are proud to be members of the Basement Waterproofing Association (BWA), long term members of the Property Care Association (PCA) and Trust Mark (Government Endorsed Standard). Call your local experts, Tapco HomeDry first.