If you have an uninhabitable basement, cellar or vault you are considering converting it into a new bedroom, office, gym or even a cinema room the first thing you have to do is make it dry. Tapco HomeDry have over four decades of experience in damp proofing basements all over London and are members of the Basement Damp Proofing Association (BDA), long term members of the Property Care Association (PCA) and Trust Mark (Government Endorsed Standards). We can undertake to carry out the whole project or just the specialist damp proofing ready for your own contractor to dry-line or plaster. Being below ground, basements are usually affected by serious damp which penetrates the wall under hydro static pressure. Apart from damp his can raise serious concerns such as timber decay, including the dreaded Dry Rot (Serpula lacrymans) so it is very important that the damp is controlled and there is sufficient ventilation and consistent temperature to ensure that conditions do not prevail, which might cause these problems, which can destroy the fabric of a building.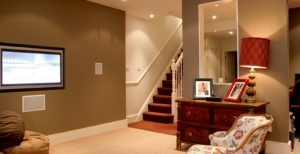 We have vast experience in specialist damp proofing – which is essential when dealing with basement and cellar damp problems and use two methods of damp proofing: Structural Waterproofing (known as Tanking) and Cavity Drain Membrane Systems, They, both work completely differently, tanking blocks the damp and CDM's control the damp. Both benefit from our long term guarantee which can be protected by the Guarantee Protection Insurance. (GPI). Tapco have been established since 1971 and are an appointed Which? Trusted trader. You can be confident knowing that the works are carried out by our highly skilled and trained technicians to ensure that the walls and floors are dry and stay that way for a long time.
So whether you are looking to create a new room within your basement, or you need a repair done to a previously damp proofed basement, Tapco HomeDry can do it. Call us first to arrange for our qualified Surveyor to visit to discuss your needs. We are long term members of the Property Care Association (PCA), the Basement Waterproofing Association (BWA) and Trust Mark (Government Endorsed Standards). We are also an accredited Which? Trusted Trader, so you can Trust Tapco.