The first view when approaching Guildford is often the contemporary 20th century red-brick cathedral which is situated majestically on Stag Hill overlooking the town and the university. Guildford is situated on the banks of the River Wey equidistant from London and Portsmouth and provides excellent road and rail connections to the South East of England. The town offers extensive shopping and world-class sports facilities which make it a popular choice for property purchasers.
If your property in Guildford has a basement or cellar it could have the potential to convert into additional living space – a great way to add value to your home too. Tapco HomeDry have been established for over 45 years and are highly skilled and experienced in such works, meaning you can rely on achieving a successful outcome. We can undertake either the whole project or just the specialist damp proofing either using a Cavity Drain Membrane system (CDM) or a Structural Waterproofing System (Tanking) ready for your own contractor to dry-line or plaster. Our treatments ensure that the walls and floors are dry and remain that way giving you an end result that will endure for many future years. Both methods are covered by or long term guarantee which for your peace of mind can be protected by the Guarantee Protection Insurance. (GPI)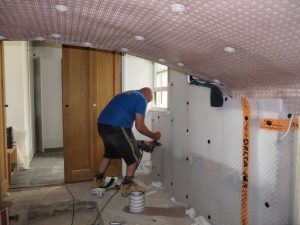 It may be that you have a basement that just requires repair, again we should be your first point of contact as a damp basement with lack of ventilation and insufficient temperature can prove ideal conditions for dry rot (Serpula lacrymans) which can cause great destruction.
Tapco Homedry are members of the Basement Damp Proofing Association (BDA), Property Care Association (PCA) and Trust Mark (Government Endorsed Standards). Call and speak to our friendly knowledgeable staff to arrange a survey and plan your basement conversion so you can start making the most of the space inside your home without a costly move or extension.