Until the late 19th century Southfields was still fields, situated between the more developed villages of Wimbledon and Putney, both are areas that we cover. Several of the former pathways through the fields form the routes of parts of today's road system, in particular Wimbledon Park Road and its continuation through Southfields Passage, which was the field path from Wimbledon to Wandsworth, Kimber Road and The Baulk, both of which were field paths and can be seen on old maps of the area. When the District & London & South Western Railway from Wimbledon to Putney Bridge opened in June 1889, the area started to take off, with the first school opening a year later on Merton Road, another of the main thoroughfares that were formerly paths through fields. Southfields, like Wimbledon and other areas around it, has undergone significant change in the last few decades, with house prices rising accordingly. The history of Southfields has been researched and documented in Neil Robson's 1999 book "Roomy Villas".
Dry rot, Damp and Woodworm can be a threat to any property. If the problem is not tackled fast there can be devastating effects on the property as a whole. Luckily, Tapco HomeDry are Southfields, Wimbledon, Wandsworth and Putneys local damp and dry rot experts, in fact we cover the whole of London and The Home Counties. Situated in Thames Ditton and Esher, with over 44 years of experience under our belt, we are here to help you when you suspect a problem in your property.
We can arrange for one of our Property Care Association (PCA) qualified damp & timber surveyors to check your entire property and measure wall moisture levels with an electronic damp meter. The surveyor will also check the accessible timbers and floorboards with a sharp instrument; giving you a very thorough survey from top to bottom. Once finished; the home owner will be given a full report containing images, floor-plans and a quotation for our recommended remedial work and treatment. Tackling Dry Rot and Damp urgently is extremely important because it can grow at an alarming rate of anywhere between 1.5 to 4 metres per year depending on the humidity conditions. If left untreated you could be dealing with repairs costing up to several thousand pounds.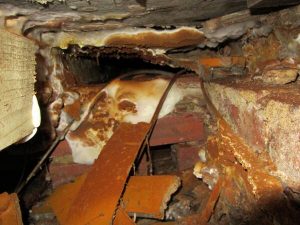 Virulent Dry Rot (Serpula lacrymans) attack
Not only do we have over four and a half decades of experience, we also cover our work with a 20 year guarantee which can be protected by Guarantee Protection Insurance (GPI). We are long term members of the Property Care Association (PCA) and Trust Mark (Government Endorsed Standards). We are also an accredited Which? Trusted Trader.
Over the last 45 years we have also carried out many hundreds of Dry Rot and Damp surveys in London, call us first.