Bracknell lies 36 miles west of London and 11 miles south-east of Reading and with two railway stations on the Waterloo to Reading mainline it has become popular with residents travelling to work in both London and Reading. Bracknell was designated a 'new town' in 1949 and has attracted hi-tech industry and major IT companies. Nearby the huge expanse of Swinley and Crowthorne Woods provide pleasant areas for walkers enjoying their leisure time.
If you are considering buying a property in Bracknell you may have been advised by your surveyor or lender to obtain a damp or timber survey, or both. First you should esquire if there has been any previous damp proofing or timber treatment carried out and establish whether a current valid guarantee is in existence.
If you are looking for a company to carry out a thorough survey, prior to exchanging contracts, you want to ensure they have good experience and excellent credentials. Tapco HomeDry has been established for over 45 years and can send a qualified PCA (Property Care Association) timber and damp surveyor to conduct a thorough survey. Our report will detail recommendations for remedial works to return the property to a sound condition. We can check for Woodworm, Dry Rot, Rising Damp, Penetrating damp or Rain Penetration.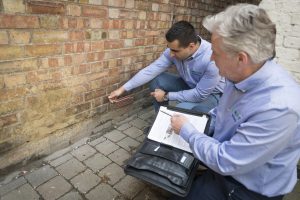 We deal with many other maintenance issues including the roof coverings, rain water goods, external rendering, brick pointing and all other items that may cause internal damp. Tapco Homedry can carry out every aspect of property maintenance including structural wall strengthening, cavity wall tie replacement, condensation control, CCTV drain surveys and repairs, including structural resin lining. The priority always is to ensure that a property is well maintained and free from any damp and timber defects.
Our highly trained technicians ensure that work is completed to the highest standards and our long term guarantee can be protected by the very respected Guarantee Protection Insurance. Tapco HomeDry is widely acknowledged as one of London, Surrey and Home Counties most respected and thorough specialists in treating all types of damp and timber problems including rising damp, penetrating damp, water damage, dry rot and woodworm. We are long term members of the Property Care Association (PCA), Trust Mark (Government Endorsed Standards) and an appointed Which? Trusted Trader.
Don't compromise call the best first, call Tapco HomeDry – ensuring you protect your home and investment for the years to come.
We also cover the surrounding areas of Reading, Ascot, Wokingham, Newbury, Maidenhead, Slough and Camberley.