Redhill is a town in the borough of Reigate and Banstead in Surrey, England. The town, which adjoins the town of Reigate to the west, is due south of Croydon in Greater London, and is part of the London commuter belt.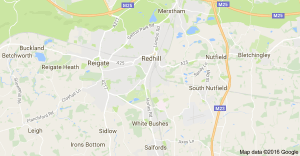 If you are considering buying a property in Redhill or any where else in the county of Surrey, it is very advisable to have a pre-purchase damp and timber survey carried out in addition to a structural building survey. Call Tapco HomeDry first, because we have been established since 1971 and have a vast knowledge and wealth of experience treating problems with dry rot and woodworm, rising damp, penetrating damp and water damage. We have carried out thousands of timber & damp surveys and preserved thousands of properties which are now protected by a Tapco guarantee. We are based in Surrey, in Esher and Thames Ditton so we know this county well, preserving many properties in and around Redhill, including Reigate, Buckland, Bletchingly, Merstham and Salfords.
If a survey of this nature may has been requested by your lender this can seem a daunting prospect, particularly if you are a first time buyer, but you should be assured that it is common practice and should not deter you from your purchase. It is in your best interests to ensure that the property is free from any damp and timber defects and, remember, that even if such defects were to be found it may be possible to negotiate a reduction to cover the costs.
A Tapco HomeDry qualified timber and damp surveyor will carry out a careful survey and can determine the exact cause of any defects using the latest technologically advanced equipment. You will be issued with a comprehensive report detailing our findings and recommendations for any remedial works required, including images and floor plan.
We are long term members of the Property Care Association (PCA) and Trust Mark (Government Endorsed Standards). In addition we are a Which? Trusted Trader. For your peace of mind our 20 year guarantee can be protected by Guarantee Protection Insurance (GPI).
We also offer roof surveys, cavity wall tie surveys, condensation surveys and drain surveys, so call and speak to our friendly knowledgeable team for full details and to schedule an appointment. Don't take any chances, purchasing property is the biggest investment that most of us will ever make.