Damp Proofing in Edgware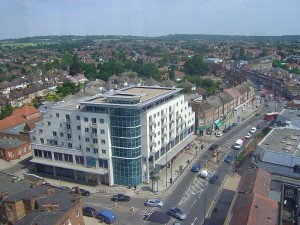 Edgware was only a small settlement for a long time, seen as a village until the First World War.
It wasn't until the 1920s that it began to expand. It was connected to the underground railway and began to develop.
Once the first shops and houses appeared, Edgware continued to grow in the 20th century. The population increased too, and there are now more than 76,000 people living there.
The area primarily consists of homes and shops. They make it somewhere to live with excellent amenities. As well as a shopping centre and a library, there are also two streams running through the area. Situated on the Northern Line, it's easy to reach from Central London.
Identified as an area for significant development, Edgware may soon get new housing. But if you already live there, you're probably worrying about how to keep your existing home in good condition.
Properties that haven't been protected are at risk of developing a damp problem.
You may already be dealing with one, and perhaps putting off doing something about it. If you don't face the problem right away, it could only get worse. Tapco Homedry have over 40 years of experience damp proofing in Edgeware so you can rest assured that you're in safe hands.
Musty Smells and Breathing Problems
Before you're able to notice a damp problem by looking, you might smell it. Damp can cause musty odours to get into your soft furnishings and clothes. On top of that, it could cause you respiratory problems. These could range from cold-like symptoms to irritated asthma.
We know that your health and having a healthy environment should come first. Our expert damp surveyors are trained to seek out your damp problem and decide how to deal with it.
Peeling Paint, Wallpaper and Stains
Letting damp get out of hand can affect the appearance of your home too. If you notice deteriorating paint, peeling wallpaper or stains on your walls, you likely have a damp issue. Our services include restoring damage caused by water in your home, as well as preventing any further problems.
Rotting Timber
Some types of damp can result in the timber in your home rotting away. This rot can be caused by several different kinds of fungus. You often also get the bonus of a woodworm infestation too. At Tapco, we're experts in dealing with wet rot, as well as the more vicious dry rot. We can replace the weakened timber and put measures in place to stop the problem coming back.
Water in the Basement
Damp basements are very common in Edgware, particularly in older homes. If you have a basement, it's essential to ensure that it's adequately protected against all the moisture down there. One of the services Tapco HomeDry provides is damp proofing of London basements. So we're prepared to reinforce your basement against flooding and general moisture build-up.
Call us today to begin arranging a damp proofing survey for your property. You won't regret taking precautions to protect your home.
By Attribution for use of image: Chesdovi (London, UK) (Own work) [CC BY-SA 3.0 (http://creativecommons.org/licenses/by-sa/3.0) or GFDL (http://www.gnu.org/copyleft/fdl.html)], via Wikimedia Commons