Weybridge is a lovely town by the River Wey in the Elmbridge district of Surrey. It is bounded to the north by the River Thames at the mouth of the Wey, from which it gets its name. It is an outlying suburban town within the Greater London Urban Area, situated 7 miles northeast of Woking and 16 miles (25 km) southwest of central London. Real estate prices are well above the national average: as of 2008, six of the ten most expensive streets in South East England so there is no wonder that home-owners taker such good care of their properties to avoid the dreaded dry rot and damp. In addition, Weybridge is one of the worst areas for the very damaging Woodworm, House Longhorn Beetle (Hylotrupes bajulus) which also causes considerable damage. Fortunately you have Tapco HomeDry nearby in Esher and Thames Ditton.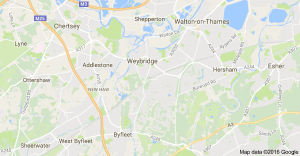 Dry rot, Woodworm and damp can be a threat to any property. If the problem is not tackled fast there can be devastating effects on the property as a whole. Luckily, Tapco HomeDry are Walton-Upon-Thames' local damp and dry rot experts; situated in Thames Ditton with over 44 years of experience under our belt, we are here to help you when you suspect a problem in your property.
One of our qualified surveyors will check your entire property and measure wall moisture levels with an electronic 'Survey Master' damp meter. The surveyor will also check the accessible timbers and floorboards with a sharp instrument; giving you a very thorough survey from top to bottom. Once finished; the home owner will be given a full report containing images, floor-plans and a quotation for our recommended remedial work and treatment. Tackling damp and dry rot urgently is extremely important for us; it can grow anywhere between 1.5 to 4 metres per year depending on the humidity conditions; if left un treated you could be dealing with repairs costing up to several thousand pounds.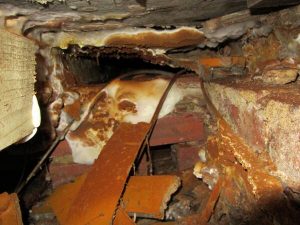 Virulent Dry Rot (Serpula lacrymans) attack
Not only do we have four decades of experience, we also cover our work with a long-term guarantee from our Guarantee Protection Insurance (GPI) and we are proud members of the Property Care Association (PCA).
Once a home-owner sees damp in their property they panic. Pick up the phone and call 02083986663 and one of our friendly members of staff will be more than happy to assist you with booking in a survey.
Over the last 45 years we have also carried out many hundreds of Dry Rot and Damp surveys in Weybridge, Walton-on-Thames, New Haw, Addlestone, Horsham and Byfleet.