Being established for over 45 years, Tapco HomeDry are recognised as London, Middlesex and Surrey's most established and reputable Dry Rot and Damp proofing specialists, Over the many years of continuous trading we attend hundreds of properties every year, many in and around Teddington, Middlesex.
If you think you may have a problem with the dreaded Dry Rot (Serpula lacrymans) then it is also likely you will have a problem with Damp because without damp, there is no Dry Rot. You may have noticed your floor becoming springy, or the constant damp musty smell, almost like mushrooms. Another sure sign you have violent Dry Rot is a constant fine orange/rust coloured dust keeps forming on your furniture and surfaces. If you are experiencing some of these there is a chance you have Dry Rot Fungus.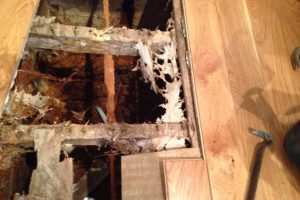 Our Property Care Association (PCA) qualified timber and Damp surveyor will carry out a thorough inspection by:
• Lifting accessible floor coverings and short ends of floor boards.
• Inspecting and probing timbers with a sharp instrument.
• Taking moisture readings of accessible timbers and masonry using an electronic 'Survey Master' damp meter.
If an attack of Dry Rot is confirmed our surveyor will recommend exactly what is required to eradicate it
Tapco HomeDry Recommendations
Will will produce a full detailed survey report on our findings with images and a floor plans and and advised you on the following works:
Locate the source of the moisture and immediately rectify.Carry out specialist Dry Rot treatment to all areas specified, including replacing decaying timbers with new pre-treated timbers and applying high performance preservatives to the remaining timbers.
Remove the wall plaster from the affected walls and re-plaster in accordance with our 'Tapco HomeDry Dry Rot re-plastering system'.
Improve sub-floor ventilation by installing extra air bricks.
If you suspect a Damp or Dry Rot problem the worst thing you can do is to ignore it. Call you local specialist, Tapco HomeDry, first us on 0800 195 9878 for a full Damp and Dry Rot Survey in Middlesex