West Byfleet; situated one mile away from the medieval village of Byfleet is a small village in Surrey which grew up around it's minor train station stop. Situated 8 miles from London Heathrow and equidistant between the business parks of Woking and Brooklands; West Byfleet has become a popular location for residents to buy properties and settle down. As a potential buyer; one thing to always remember is to check any property for damp and dry rot.
As West Byfleet sits next to the M25, near Cobham, Tapco HomeDry are your local specialists for all your dry rot and damp needs. Damp and dry rot can be very dangerous to a property; with immediate treatment you could end up spending thousands of pounds tackling the problem. Tackling the issue fast is important and Tapco HomeDry are here to help. With over 45 years under our belts; we are the damp and dry rot experts of Surrey and London.
With our offices based in Thames Ditton and Esher; one of our highly qualified surveyors can be in West Byfleet in no time to inspect your property. Using state-of-the-art tools, our surveyors will spend an hour looking at the property and inspecting and damp and dry rot. Once finished, they will go over all their findings with you personally before they create estimates for any remedial work needing to be done. It's that simple! Picking up the phone and dialling our friendly office staff is easy; why wait?
The longer damp and dry rot is ignored, the quicker the problem will continue to grow. In some cases, the damp and dry rot has grown into neighbouring properties which creates a problem which could cost thousands to fix. With our reasonable survey prices, there is no time to hesitate.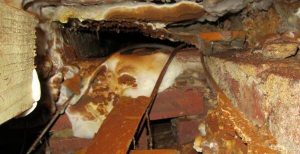 Our team of experts are more than happy to help you. We are very confident that you will be satisfied with your work so you, your family or your tenants can live in peace in the beautiful surroundings in West Byfleet. All of our work is covered with a long term guarantee from our Guarantee Protection Insurance (GPI) and we are proud members of the Property Care Association (PCA).
If you suspect that your property is a victim of damp or dry rot call us today on 02083986663 and we will be happy to help you.