In the Borough of Epsom and Ewell is the  lovely market town of Epsom, famous for Epsom salts and Epsom Downs, the home of one of the biggest horse races in the world, the Epsom Derby. Although it has it's lovely shops, businesses and houses, nowhere is safe when it comes to the dreaded Dry-Rot fungus (Serpula lacrymans). Dry Rot spores  are in the air constantly because it is one of natures ways of tidying up. In fact, if we didn't have fungus and insects to attack and breakdown the dead timber none of us would be here. Irrespective of its name, Dry Rot needs a moisture content of at least 22% to germinate and grow, so keeping your property free of damp is imperative to preventing this very damaging fungal attack.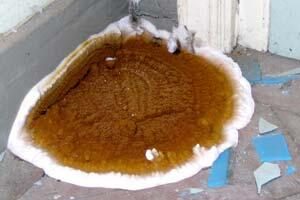 The Dry Rot fruiting body (above) is a large flat fungal mass covered with thousands of rust, red spores that are sent into the air to spread the attack. From the fruiting body, mycelium grows and spreads across timber and through masonry,  in its search for food, timber. Once the timber has been attacked it is left dry with cuboidal cracking. In ideal conditions the spread is rapid and has been known to cause thousands of pounds worth of damage over a few short months.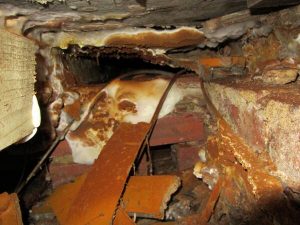 Your local Dry Rot, Wet Rot and Damp Proofing restoration company, Tapco HomeDry are based on your doorstep in Thames Ditton and Esher in Surrey and have carried our many Dry Rot, Damp surveys and restoration contracts in the Borough of Epsom and Ewell. We have been established since 1971 and are recognised as one of London, Surrey and the outer Counties most established and reputable Dry Rot, Wet Rot, Woodworm, and damp proofing restoration companies. We are long term members of the Property Care Association (PCA) and Trust Mark (Government Endorsed Standards)
Treating Dry Rot successfully is very specialised and should only be carried out by a reputable specialist company such as Tapco. It is also disruptive because once we have located the cause of the moisture and rectified it, we have to fully expose the attack, by removing wall plaster and cutting out the affected timbers. All exposed areas then have to be thoroughly prepared prior to sterilising the masonry and treating the remaining timbers with a high performance timber preservative. All timbers are then replaced using new pre-treated timber in accordance with good building practice.
Following completion of our restoration work you will be issued with our established 20 year guarantee which can be protected by Guarantee Protection Insurance (GPI) Call your local expert first. Call Tapco HomeDry.