Tapco HomeDry are recognised as one of London, Surrey and the Home Counties most established and reputable Dry Rot and Damp Proofing specialists and attend hundreds of properties in London and Surrey every year including Raynes Park in South London. In fact bing just a short drive along the A3 we are your neighbour.
On a recent dry rot survey in Raynes Park our qualified timber and damp proofing surveyor found a virulent attack of True Dry Rot Fungi (Serpula lacrymans) which had been caused by damp and moisture ingress saturating the walls and subfloor timbers, creating ideal conditions for the wood rotting fungi to develop. This particular property was a large two bedroom, ground floor flat in a semi-detached Victorian building, built around the early 1900's. Our Property Care Association (PCA) qualified timber and damp surveyor carried out a thorough survey consisting of:
• Lifting floor coverings and short ends of floor boards.
• Inspecting and probing timbers with a sharp instrument.
• Taking moisture readings of accessible timbers and masonry using an electronic 'Survey Master' damp meter.
Unfortunately for our client a virulent attack of the True Dry Rot Fungus (Serpula lacrymans) was found, affecting the flooring and skirting timbers and surrounding masonry to the front of their living room. The adjoining areas of the hall were also affected. In our surveyors opinion the Dry Rot Attack had been caused by a leaking down pipe and guttering which we were instructed to replace.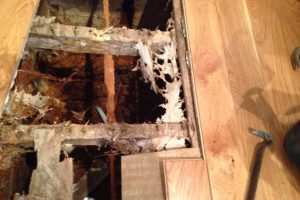 TAPCO HOMEDRY'S DRY-ROT TREATMENT
Our client was sent a full, detailed survey report detailing our findings, including images and a floor plan They were advised of the following works:
• Carry out specialist Dry Rot treatment to all areas specified, including replacing decaying timbers and applying high performance preservatives to timbers.
• Remove salt contaminated plaster from damp walls and re-plaster in accordance with our 'Tapco HomeDry Dry Rot Re-Plastering System'.
• Improve sub-floor ventilation by installing extra air bricks.
Call your local expert, Tapco HomeDry immediately if you suspect a Damp or Dry Rot problem. The worst thing you can do is to ignore it. Call us on 0800 195 9878.