The lovely village of Ashtead, Surrey in the Green Belt of Surrey is within the district of the Borough of Mole Valley. It is separated from Leatherhead, by the M25 and from Epsom by Ashtead Common and Langley Vale. Ashtead has a large two-part conservation area, including the mansion, Ashtead House, used by the City of London's Freemen's School.
In the four and a half decades that Tapco HomeDry has been continuously trading, we have carried out many pre-purchase timber and damp surveys on properties in and around Ashtead, because being based in Thames Ditton and Esher we are almost neighbours and your local damp and timber specialists. If you are considering buying a property in Ashtead you may have been advised by your surveyor or lender to obtain a damp or timber survey, or both. This is because a potential problem may have been found like a damp wall, springy floor or even evidence of wood boring insects (woodworm). First you should enquire if there has been any previous damp or timber treatment carried out and if so is there a current, valid guarantee to cover what was done? All ensure that one, the company is still trading and two that they are members of The Property Care Association (PCA) and reputable. If it transpires that there is little or no history on what was carried out, don't take a chance, call Tapco HomeDry, a company you can trust, to send a qualified timber and damp surveyor to carry out a thorough survey, prior to exchanging contracts. You will quickly receive our detailed report together with any recommendations we have made to restore the property back to a sound condition and free of damp and timber decay.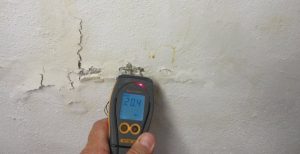 Why you should choose Tapco HomeDry
Because we carry out all aspects of damp problems in the home, from the roof to the drains, to internal high humidity. Our services include, repairing leaking roofs and rain water goods, rectifying all building defects to prevent rain water damage and timber decay, rising damp, penetrating damp, converting damp unused basements and cellars into wonderful new rooms, full timber treatment to protect against woodworm, dry rot and wet rot, Condensation and mould control, water damage restoration for all major insurance companies, CCTV surveys and drain repairs, including structural resin lining, cracked wall repairs and strengthening, cavity wall tie replacement and of course Dry Rot eradication and treatment. We undertake all aspects of the work, including all replacement of timbers and specialist replastering. Our Property Care Association (PCA) surveyor will thoroughly survey your property, report on the defects and damage purely to the affected areas only.
Tapco HomeDry are long term members of the Property Care Association (PCA), Trust Mark (Government Endorsed Standards) and an accredited Which? Trusted Trader. Your property will be covered by our long established 20 year guarantee which can be protected by the very respected Guarantee Protection Insurance) so don't compromise, Never compromise  call us first.